Surging demand last year sent wing costs to lofty heights. Now, that has left them "priced out of menus" and some restaurants are promoting boneless varieties instead, Joe Sanderson Jr., the chief executive officer of Sanderson Farms Inc., said  at a Goldman Sachs Group Inc. conference on Tuesday.
Wholesale wing prices in the U.S. Northeast reached as high as $2,1878 a pound in September, the highest ever in USDA data for the past seven years.  Since then, the cost has slumped about 37 percent and now sits at a seasonal four-year low.
Restaurants are going to avoid the higher wing costs eating into their margins, Sanderson said of restaurants. Prices are unlikely to "see any significant improvement in wings until football season," he said.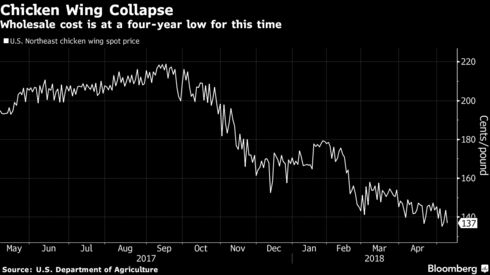 The popularity of wings has climbed for years and tends to peak during sporting events like the Super Bowl.  For national chain Wingstop Inc., bone-in wing costs eased 11 percent in the quarter that ended March 31 versus last year and deflation is expected to continue., "Every few years, we see the cyclicality in the wing prices," Wingstop Chief Executive Officer Charles Morrison said. "When it goes high, it's tough, but when it goes low, it's a great opportunity for us. We expect these wing prices to moderate and perhaps sustain for quite a period of time only because all the market factors appear very favorable for that."