U.S. chicken will keep making its way to Mexico, even if there's a shakeup in the North American Free Trade Agreement, said Bill Lovette, chief executive officer of Pilgrim's Pride, said in an interview this week with Bloomberg News.
Both countries are interdependent when it comes to poultry, as Mexico is the largest market for U.S. exporters. At the same time, the Latin American country is "very aware of food inflation" and does not want citizens to see runaway costs, Lovette said. "Mexico and the U.S. are so inextricably linked that I don't believe there's going to be a significant impact, especially for chicken," Lovette said. "We'll find a way to keep chicken going across the border."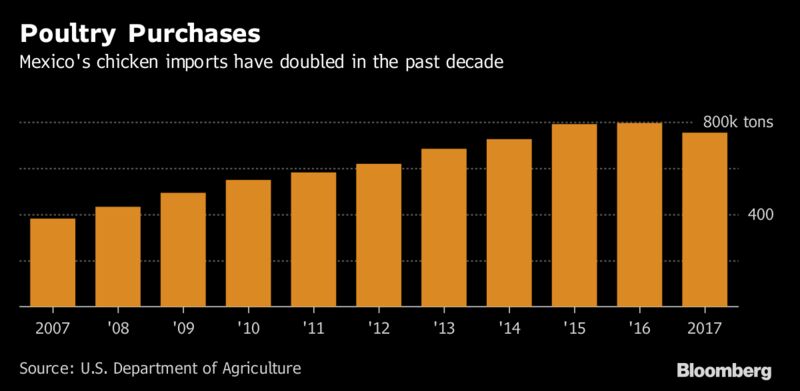 The comments come as the fifth round of Nafta negotiations looms between U.S., Mexican and Canadian officials. The talks in Mexico City are said to begin on November 15. The United States has threatened to withdraw from the deal, and the last round of negotiations in Washington grew contentious as American officials made controversial demands on items including dairy and automotive content.
Agriculture groups have lobbied the White House to preserve the deal. Mexico is also among the largest foreign buyers of American pork, corn and wheat, and exports are vital to offset recent domestic surpluses. U.S. chicken sales to its southern neighbor have dropped this year, partly because of the strength of the dollar versus the peso, Lovette said. Through September, shipments fell 9.2 percent in 2017 from a year earlier, U.S. Department of Agriculture data show.
Pilgrim's Pride has operations in Mexico, which may help to offset the impact of any trade-policy changes. The unit performed better than expected in the third quarter, and Mexico's demand is expected to grow as consumers with rising incomes eat more protein, the company said Wednesday on an earnings call.
Lovette also said he does not expect the United States to regain export access to China in the foreseeable future. China banned U.S. poultry shipments since early 2015 after a domestic outbreak of avian influenza. President Trump is visiting the Asian nation this week and Chinese online mall JD.com Inc. on Wednesday committed to buying $2 billion of U.S. goods, more than half of which is beef and pork.